Livestorm Review
Livestorm Review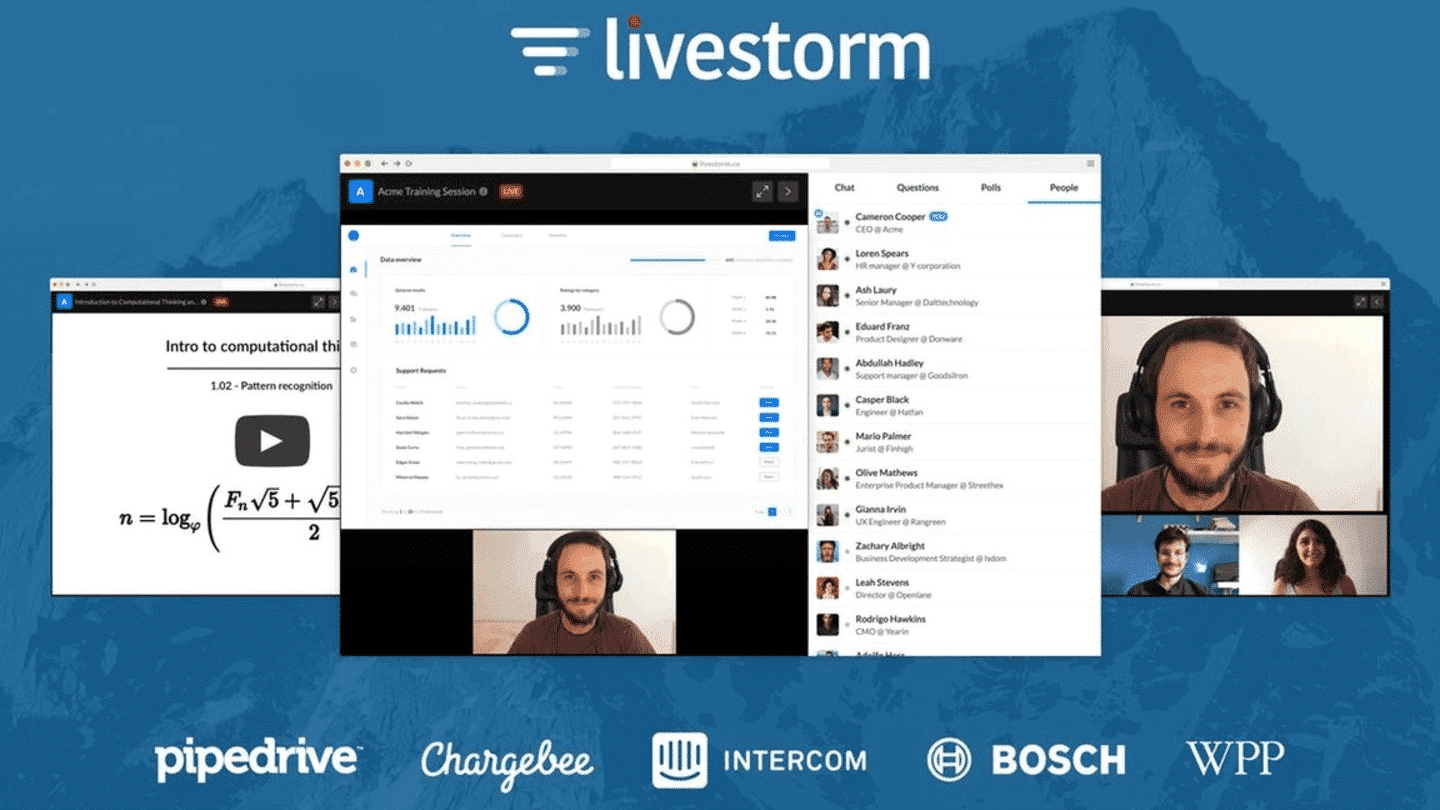 Lifestorm review: What's It?
Livestorm is a modern live video suite powering all kinds of video use cases for business teams. Great companies use Livestorm to power live webinars with no download, host remote meetings, or set up automated and on-demand webinars that do the work for them.
Livestorm is already trusted by great companies such as Intercom, WPP and Pipedrive for product demos, lead qualification events, customer onboarding, HR training, internal events, video podcasts, webcasts and more.
Livestorm makes it easy to create a webinar in a few minutes, with a beautiful registration page and personalized email sequence for reminders and follow up messages. Livestorm has all the interaction features expected from a great webinar software: chat, live questions, polls, displa…
Lifestorm review: What about Features ?
Unlimited HD webinars (resolution is dependent on bandwidth)
Screensharing
Browser-based webinars
Chat during webinars
Q&A during webinars
Custom registration page
Automatic recording / Replay
Custom branding
Invite guest presenters
One-click invite on stage
Embed forms
Customizable registration forms
Email invitations
Pre-recorded video
Multi-language support
Media kit tools
Recurring Events
Source tracking
Polls during webinars
Analytics Report
Data enrichment
Third-party Integrations
Iframe mode
Export video to Youtube
Export PDF reports
Overview of Livestorm Benefits
Livestorm aims to offer optimum webinar user experience for both the host and attendee. The software allows real-time engagement as participants have actual conversations, join polls, answer questions, sort using upvotes, and more. Anyone can be invited onstage to speak and go live with the host. Livestorm also provides broadcasters with a recording of every session, which registered attendees can log on to for replays.
Webinars can be more productive when actionable data is effectively acquired from the audience. Livestorm addresses this using tools to analyze participants, such us customizable forms to obtain names, email addresses, companies and job titles, and more. Important information can then be sent automatically to corresponding personnel for sales and marketing campaigns. Livestorm can also export relevant profiles to third-party applications or native integrations.
Organizations do not need to worry about the logistics surrounding webinars. Livestorm can be accessed and utilized from any browser, whether on a desktop or mobile device. Broadcasters can conduct web events virtually anywhere and anytime, without being limited to offices and even if they are abroad. They can even add custom branding to a webinar room and registration page.
Joining online events is made more convenient as Livestorm allows attendees to access webinars without restrictions. They are not required to have a Livestorm account nor do they need to download any software. All they need is a web-enabled device and click on a link or event widget online to join a webinar.
Livestorm Review: Pro's And Con's
Livestorm Pro's:
1- This is very easy to use, I like the customization and i can integrate it with a lot of app
2- It is easy to use, has an enormous compatibility and some outstanding features.
3- Easy to use and intuitive. We've had very little trouble training our team of Outreach Managers on how to use this software. All the in-webinar features are useful and appreciated.
4- It is easy to use, has an enormous compatibility and some outstanding features.
5- The reporting is detailed and simple to use, and the metrics regarding attendance have given us key insights into our user base. The ease of on-demand and replay features also stands out. Lastly, the customer support has been outstanding. I absolutely recommend this product, we were up and running with a branded webinar in less than 10 minutes.
6- This software fits with the way we wanted to broadcast our courses, easy to use, and great user experience. Clean and intuitive.
7- They beat competitors like Demio by allowing you to customize the email notifications – both timeline and templates. Also, their Polling functionality allows for multiple selections; Demio only allows you to select one option at a time. Same functionality holds true for Custom Forms. Their integrations are also great. We have it connected to Pipedrive, where it searches first to avoid duplicates, and webhooks (which everyone should always offer). We've also connected it to Google Analytics
Livestorm Pron's:
The quality of the recorded replays could be better, but they are working on it. Other than that, its all great!"
Livestorm Review